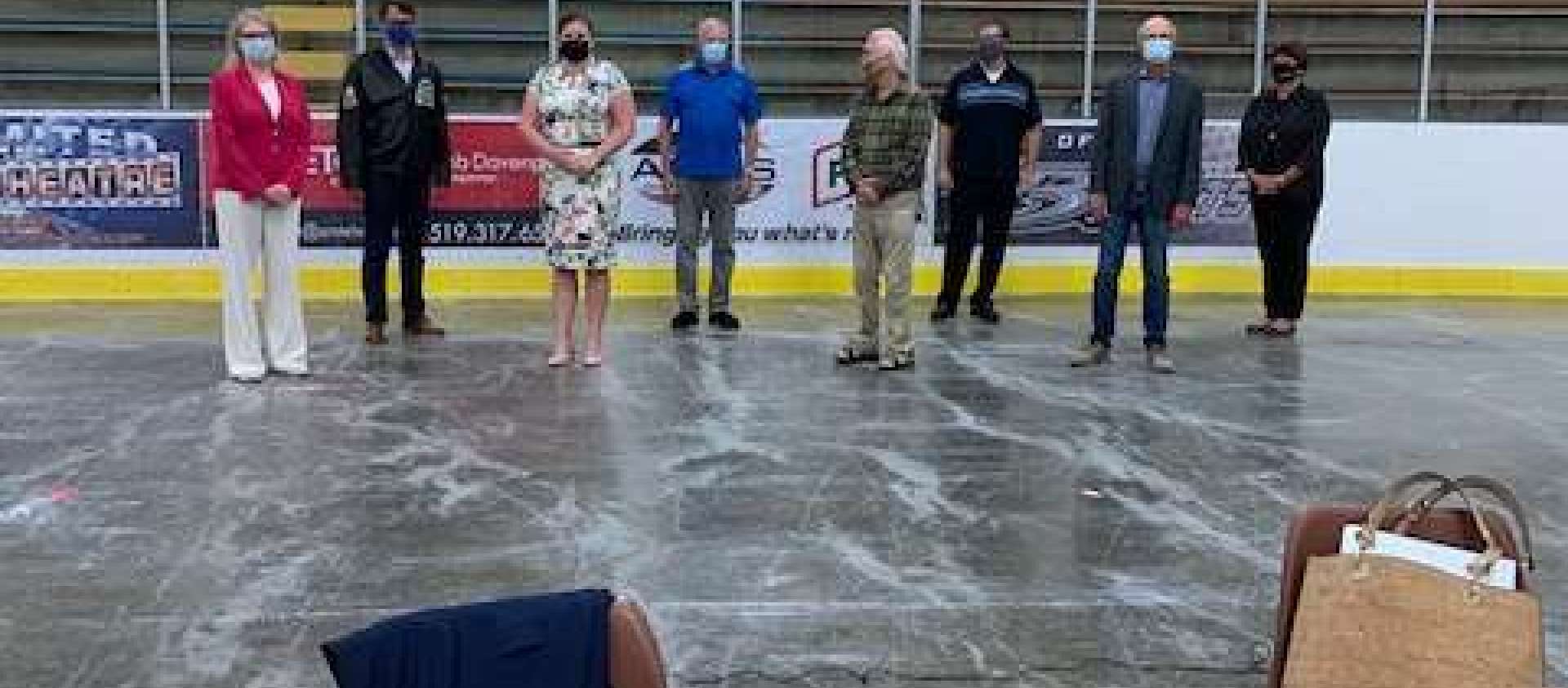 Southwest Middlesex receives funding from the Government of Canada and the Government of Ontario for watermain replacement and renovations to the Glencoe Memorial Arena and Curling Club Southwest Middlesex, Ontario
The Government of Canada, in partnership with the Government of Ontario and the municipality of Southwest Middlesex, are investing in infrastructure in Southwest Middlesex (SWM). The investment through the Investing in Canada Program (ICIP) to local infrastructure will help renovate the Glencoe Memorial Arena and Curling Club and replace the watermain on Main Street in Glencoe.
The ICIP fund will provide for the arena and curling club renovations with $1,082,554 provided by Canada and $902,038 provided by the Province to help SWM to complete the following upgrades:
replace refrigerated concrete floors in both the arena and the curling club;
upgrade the electrical panel, condenser fan and soft-starters;
convert to glycol-cooled compressor heads;
upgrade ammonia detection & ventilation system and hot water system;
addition of a new washroom;
two new dressing rooms;
sound system;
cafeteria counter and railing.
Also through the Green Infrastructure Stream of ICIP, SWM will receive an additional funds from the Government of Canada in the amount of $781,440 and $651,135 from the Provincial Government to replace the existing Main Street watermain in Glencoe with a new and wider pipe, install 12 new fire hydrants and replace the connections to private water services.
This much needed work will prevent future drinking water advisories, increase water flow and reduce maintenance costs. Glencoe's Main Street watermain has been in need of replacement and re-sizing for several years which makes this an exciting project that will translate into cost savings for water customers with less water system repairs anticipated in the future.
"Thank you to Premier Ford, and our local MPP, Minister McNaughton, and all those who supported these investments in Southwest Middlesex. The replacement of an existing water main in our downtown core is essential to help supply safe, clean drinking water within the community of Glencoe. We also welcome the funding for our joint application for upgrades and updates to our local municipal arena and the curling rink, in partnership with the Glencoe Agricultural Society and the Glencoe Curling Club. Working together to encourage and support sports and recreational activities in our community is important for our growing community. These investments will help support improved access to recreational activities and programming, as well as ensuring reliable water service."
Allan Mayhew, Mayor of Southwest Middlesex
"We are so thankful for the support from the Government of Canada and the Province of Ontario for these two very important projects that will reduce future maintenance costs and improve water supply in SWM plus improve our arena and curling club through necessary updates and upgrades."
Greg Storms, Operations Manager – Southwest Middlesex
Additional Information:
Canada and Ontario Invest Over $29 million in 19 Green Infrastructure Projects
Backgrounder Canada and Ontario Invest over $29 Million in 19 Green Infrastructure Projects
-30-
Media contact:
Sheila McCahon, Communications Officer
@email
(519) 287-2015 x8107